International Short Film Competitions
LUFF 2016–Film–Courts métrages
Musique: Hedoromeruhen (jeudi 20.10.16), Gwyn Wurst (vendredi 21.10.16). Montage: Aline Bonvin.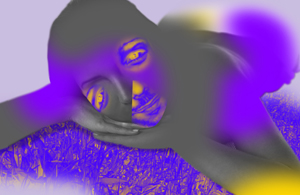 Experimental
Between formal acting and the revisiting of narrative codes, this year's selection of experimental short films presents troubling and fascinating experiences, which engage all senses by constantly questioning them. Among the new propositions, the will to explore the possibilities offered by new technologies and their connection to old audiovisual techniques, silver-based and video, is particularly worth bringing out. And once again, experimental cinema proves that it is not only the serious deployment of visual concepts, but that it can be deployed with humor, casualness and elegance.

Stipple Stipple
Florent Texier, 2016, France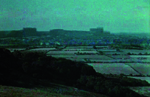 Distortion
Lydia Nsiah, 2016, Austria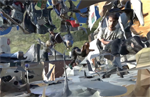 Navigational Dream
Jack Gray, 2016, United States

Rotation
Herbert Distel, 2015, Austria

Fernfacealgorithm
Brenna Murphy, 2014, United States

Self
Claudia Larcher, 2015, Austria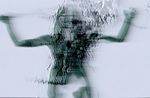 Leather
Jimmy Joe Roche, 2014, United States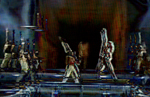 Mad Ladders
Michael Robinson, 2015, United States

WHATEVS~4~EVS
M4 mindmachinemak, 2014, Thailand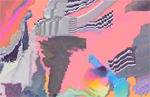 #Amazeballs
Andrew Benson, 2014, United States

Vintage Print
Siegfried A. Fruhauf, 2015, Austria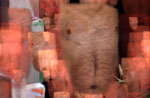 Tanzen des Brusthaar
Fiona Rukschcio, 2015, Austria
Fiction
This year's fiction shorts mix styles, defy genres, surprise and confuse with their narratives. In "The Beginning", a man is making the tough choice between a noose and a plate of soup. "Depressive Cop" takes you to an island of black and white, in its harsh surrealities lives a beauty in disgust. "On Stillness", a documentary-like film on the relationship between a man and his plant, is a fascinating story of rich imagination that can hide behind a simple window curtain. "Swallowed" turns your usual apartment into a surreal dance that messes up the kitchen floor and the peace of your mind. "The Procedure" could be a metaphor for what the public of this festival has to endure.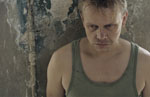 The Beginning
Vladimir Tsarenko, 2016, Russia
The Mermaid
Thomaz Labanca, 2015, Australia

Tampoon
Jeannie Jo, 2015, United States

Swallowed
Lily Baldwin, 2016, United States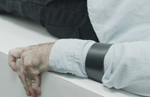 The Procedure
Calvin Reeder, 2016, United States
On Stillness
Samir Nahas, 2015, Switzerland

Depressive Cop
Bertrand Mandico, 2016, France
Animation
People often confuse putting on an alternative line-up with "scraping the barrel". Get this idea out of your mind, LUFF is not satisfied with leftovers, it takes advantage of the others' line-up in order to focus on more fragile and daring works and give them more visibility. This year, the festival team has delved into the web and has found the harshest flat-sharing story, the nastiest love story, and the most teeming lab story. As in previous years, this section has no theme, only the desire to give you a good kick in the nuts.

The right to Bear Love
Isabel Higgins, 2016, United States

Frog Lovin
Nikhil Markale, 2015, Australia

A Morning without Coffee
Jelle Van Meerendonk, 2016, Netherlands

Inside out
Claudia Maté, 2016, Spain

Serpentine
Bronwyn Maloney, 2016, United States

Roomates
Jamie Wolfe, 2016, United States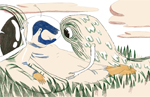 Deep-space
Bruno Tondeur, 2014, France

Ya
Shen Jie, 2015, China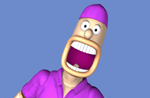 Animation School Dropout
Vince Collins, 2014, United States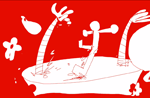 Table of Gods
Jacob Menden, 2016, United States

Golem Jam #3 — SBROOBJAM
Collectif, 2016, United States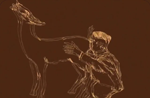 North Korean Pop
Gabe Mangold, 2016, United States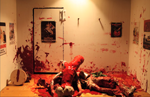 Sauce Andalouse
Mathias Antonietti, 2015, Switzerland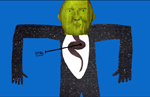 Simple Shapes, a swarthy child
Shasha Svirsky, 2015, Russia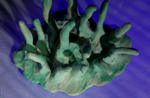 Ossein
Amia Yokoyama, 2016, United States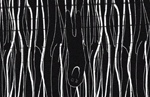 Individual
Nathan Sonenfeld, 2016, United States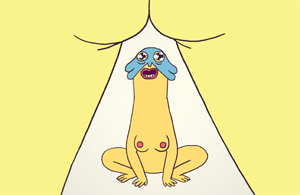 Jury
Xavier Seron
Brussels, Belgium
Scriptwriter and film maker
Victor Téta
Geneva, Switzerland
Programmer at Petit Black Movie an somehow an actor
Loïc Rabou
Martigny, Switzerland
Curator and graphic designer